Dear Beloved in Christ,

Greetings and blessings from your missionaries in Frosinone, Italy.

We are well into Spring, but only last week we began to have some very nice weather. So, our days are quite warm and the vegetation is growing with a few weeks of delay.

Naturally, our outreaches have been delayed and now we are ready to go, as we will start our evangelistic programs. This year we want to use some Videos and the projector to show some evangelistic videos. Unfortunately we can't use the movie "Jesus" in the public, but we have other videos which we can show. We are also giving out Bibles to everyone who will be interested to have one.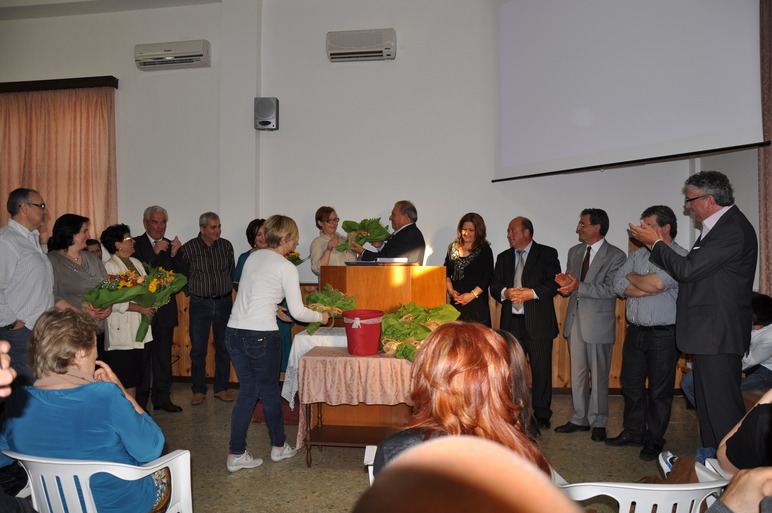 Presenting the flowers to our wives
Someone is opening a Bar in a building nearby, almost across the street from out church hall, and I went to see what they were doing. So we began to talk and eventually I began to talk about the Lord and how to get saved. Of course they had to work, so they could not stop and listen to me for long, but they asked mostly about the differences we have with the Catholic Church. After a few answers I went to the church and gave them a Bible each. They were three people there, so we left with the promise that they would like to know more about our faith in God.
Last Saturday (April 28), we had our General gathering with our Communion of churches and we had flowers given to all the Pastor's wives. It was a very nice meeting and we are planning to start prayer meetings for all our 91 communities in our Province. Every church will get to pray for 13 communities and we will go ahead for a number of months which I would like to keep for a full year.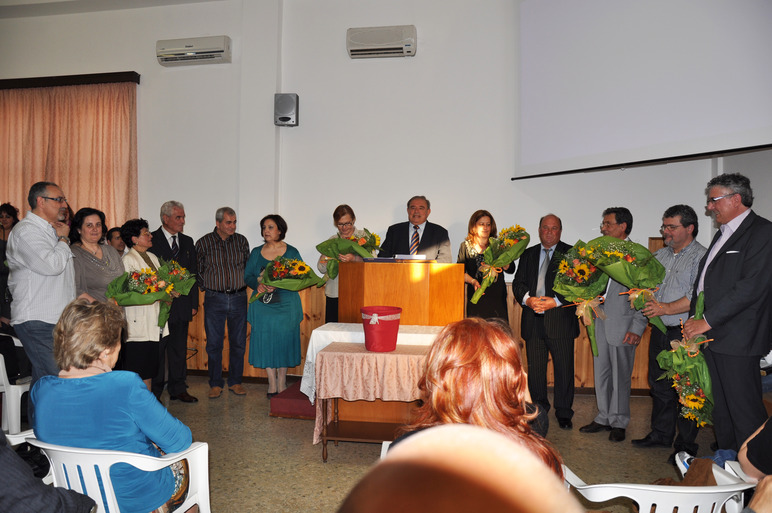 All the Pastors with some of the wives missing
As you know, last Fall I did not come to the States, so I missed seeing you all, but God willing I am coming this Fall, and I want to spend more time in the New England area and be with our children a little longer. I am also planning to visit some churches in the area, especially new churches which have not supported us until now. So, please pray for us and for our ministry, that God will speak to the hearts of the Pastors of these churches so they will get a heart for the Italian Mission Field.
As I mentioned in other newsletters, one of the reason many churches in the US don't regard Italy as a mission field, it's because supposedly, Italy is a Christian nation (just like America and England), but very few know that apart from the fact that only about 5% of the Catholic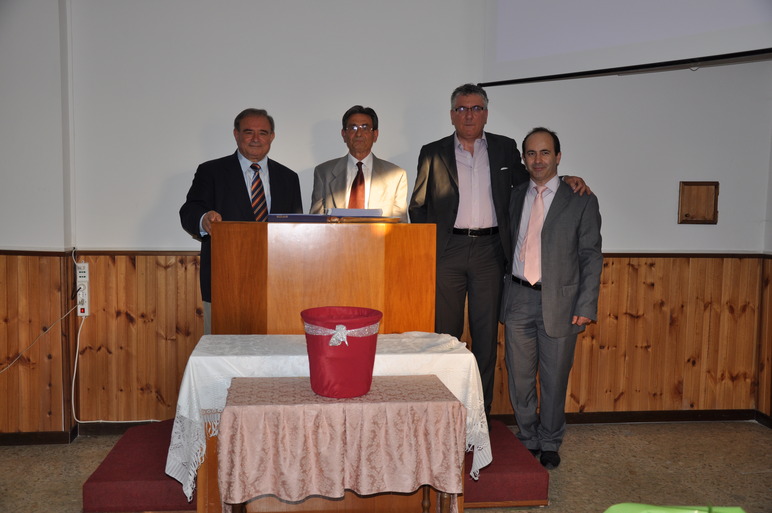 people go to church regularly, yet even if all went to church every Sunday, their teachings are that you are not saved by grace through faith in Christ, but through the good deeds and by practicing the "sacraments". So, Italy is a wide open mission field, with only 0.4% of Born Again or …considering themselves to be Born Again!
We want to thank everyone of you for your prayer and for your financial support to us and our ministry. We know that this financial struggle is affecting every nation and since they posted this "Technical Government" in Italy, they are just slamming taxes all over the nation, with gasoline, electricity and other utilities going crazy! Yet, so far the Lord has been with us and we trust He will continue to be with us, but you may have heard that a few people especially small employers, are killing themselves because they can't keep up with the heavier taxes and other expenses.


The gathering
It's in these struggles that we see the miracle of God in being with us and He promised before He went to Heaven! We praise God for His faithfulness and we thank you for your faithfulness in supporting us. We bless you, your family and your church and pray that our God will reward to a million times for your sacrificial support.
In Christ our Savior and Lord,
Abel Aureli and family